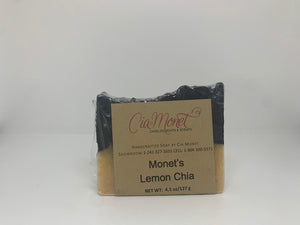 This unisex soap is creamy yet has just enough (chia seeds) throughout the soap for a soft exfoliation. It contains moisturizing chia seed oil to help with dry skin. Scented with pure lemongrass essential oil which is known for it's soothing and stimulating properties. 
Features:
100% Bahamian Made
All Natural Ingredients
Suitable for all skin types
Cia Monet Soap Collection is a fragrance filled journey, drawing inspiration from The Bahamas' exotic and natural resources, creating wellness for the mind & body.